NAOMI - CHEIF TRAINING OFFICER - RIDE + RIOT TRAINER
• Rebel House Head Trainer / RIDE + RIOT TRAINER.
• Obsessed with The Office
• Terrified of cats
After 12 years in Los Angeles working in the dance and commercial industries, and as a SoulCycle Instructor, Naomi, Rebel House Head Instructor, is excited to be back in Salt Lake City! She is most well-known as an assistant choreographer for the hit TV show, So You Think You Can Dance. Working as a Dancer, Choreographer, and Artistic Director she has gained a passion to share with others her knowledge and insight on movement, health, and wellness. Naomi will have you sweating, dancing and feeling inspired the entire 45-minute class. Yes, her music is loud but her passion and heart are even louder!


CURRENT MUSIC OBSESSIONS: Rihanna, Michael Jackson, Prince (my spirit animal), Migos, Wiz Khalifa, Steve Aoki
COURTNEY - RIDE + MASTER RIOT TRAINER
• Senior RIOT trainer, RIOT workout developer, RIDE + RIOT TRAINER.
• Chocoholic
• Former Dancer in LA

Courtney fell in love with sports and fitness at a young age where she developed a lot of confidence. She loves to be in the studio and leave her stress and worries outside the door so she can focus on building strength and being her best self. Once Courtney steps inside the studio, she feels in control of herself, her mind and how hard she can work. Her goal as an instructor is to get you in your zone and train your mind for success! Her classes are fun and intense, with a little bit of sass.

CURRENT MUSIC OBSESSIONS:
Tinashe, Steve Aoki and Drake
MEREDITH - MASTER RIDE + RIOT TRAINER
• Founding Rebel House RIDE + RIOT trainer.
• Never met an ice cream cone she didn't like
• Favorite place is anywhere on a motorcycle with her hubby
• When she's not at REBEL HOUSE, she can be found mall crawling with her mini, Ruby Que

Meredith grew up in the suburbs of D.C. and moved to Utah 10 years ago and has loved it. Like most Salt Lake natives, she fell in love with the mountains and beautiful scenery. Meredith has worked in the fitness industry for over eight years and loves to share her passion for fitness with her classes. Her biggest goal as a teacher is to motivate and encourage her students to give their best.

CURRENT MUSIC OBSESSIONS:
Get Lost in the Music-MuteMath, Preworkout Pump Up Party: Top 40 Pop Hits, Cody Jinks, Post Malone and Britney Spears
SWEDISH DAVE - MASTER RIDE TRAINER
• Founding Rebel House Ride trainer
*Outdoor enthusiast
*Guitar jammin' Singer-Songwriter
*Self-proclaimed Happiness Consultant / optimist
Dave was born in the small Baltic Sea town of Karlskrona, Sweden, but loves where he lives currently, in The Avenues, his favorite neighborhood in Salt Lake City. Dave is passionate about EVERYTHING! In fact, he frequently describes himself as "always bursting at the seams", with a passion for life, for being present in each priceless moment & focusing on being grateful for the life that he enjoys. If pressed for just a couple things he's especially passionate about, "breakfast & biking" is what he'd say through his seemingly endless smile! When he's not at REBEL, he works full-time at The City Library, in downtown Salt Lake. He believes nature to be the ultimate panacea and absolutely loves being in the outdoors.
CURRENT MUSICAL CHOICES: RIDE Music: Armin Van Buuren, Mitis, Kaskade, Galantis, Illenium, etc.
CHELSIE - MASTER REHAB TRAINER
• Lived in four states (WI, FL, CO, UT)
• Loves to ride her '03 Harley Sportster
• Never wears matching socks

Jenna has been a spin instructor for three years. After moving to Utah in early 2018, she discovered REBEL House and was thrilled to join the team. She grew up in a small town in the Wisconsin River and was born with a passion to explore the great outdoors (indoors too!). Her goal for each class is to celebrate the strength of her students, both physically and mentally, while getting sweaty to sweet beats.

CURRENT MUSIC OBSESSIONS:
Crash this Party-Yellowclaw, Hammer-nothing,nowhere, and Vans (It's Different Remix)-Arrested Youth

Current Music Obsessions: Lizzo, Zedd, Beyonce, Oldies, Throwbacks, Brendon Urie (always).
• Loves dessert
• Earned his degree in Ballet from the University of Utah
• Over 55 hours of artwork on his body

Born and raised in Lubbock, Texas, where he was the captain of his Varsity basketball team for two years, Bashaun chose to trade in his hoopin' shoes for ballet shoes in 2007 when he moved to Salt Lake City to attend the University of Utah. He currently dances full-time with the Ririe-Woodbury Dance Company where he travels the world teaching and performing.

CURRENT MUSIC OBSESSIONS:
Drake, J. Cole and Josh Vietti
CURRENT MUSIC OBSESSIONS:
Music Obsessions: Dua Lipa, Tovelo, Illenium, and my boys N'Sync
• Always hungry
• Obsessed with Chrissy Teigen
• Feels more naked without her rings than clothes
After graduating from the University of Utah and coaching high school cheer, Liv started working for the American Heart Association to help create a world of longer, healthier lives. She oversees the largest non-profit 5K Walk campaign in Utah and the American Heart Association's newest campaign, CycleNation. That's how she found Rebel! Liv is excited to share with others what Rebel brings to her - purpose, excitement and inspiration. She wants those who ride with her to remember they can and will do hard things and you can have fun while doing so!
Current music obsessions: Jay + Bey, Kanye West, Old School Beats, Ariana Grande and Major Lazer
*Made up of 50% dad jokes and 50% Flamin' Hot Cheetos
*Has watched every episode of Greys Anatomy 7 times.
*Born in Houston, Texas (like Beyoncé)
Elia has been passionate about Sports & Fitness for as long as she can remember. She played Softball throughout Highschool, took up weight lifting in 2017 and has a new-found passion for indoor cycling as a REBEL instructor. When Elia is not at REBEL you can find her taking a nap, watching Netflix, or playing Xbox with her Husband Erik. Elia's classes will make you laugh, cry and sweat all at the same time. She wants all of her Riders to walk out feeling inspired and invincible!
Elia is the spunky, energetic, Latina your life has been missing. Her Mantra: Strive for happiness, no matter how long it takes. The time will pass anyway!
CURRENT MUSIC OBSESSIONS:Ariana Grande, Bad Bunny, Cardi B, Drake, Calvin Harris, J Balvin

ALYCIA - RIOT + RIDE TRAINER
• Played college golf
• Passionate about growing his century-old family business
• Never tried boxing until REBEL!

Born and raised in Salt Lake City, if he's not sweating it out at REBEL, he's helping his father run their family-owned jewelry business, Morgan Jewelers. He lives each day in gratitude for the opportunities he has to contribute to the Salt Lake City community and is passionate about the future of the city!

CURRENT MUSIC OBSESSIONS:
Drake (loves Final Fantasy and Elevate), @rocworthy and Hey Up There-Buddy
*Has lived in Spain twice!
*First crush was the "Mailman" Karl Malone
*Loves Diet Coke
Emily has always loved fitness, but she truly fell in love after learning that "the mind is primary." Getting her mind right mentally prepared her for physical, emotional, and spiritual changes that have lead her to practicing immigration law and her goal of advocating for others. If she's not in the gym or the courtroom, she's likely strolling around Target or eating Mexican food. She's excited to share her love of fitness with you and wants to help you see the mental changes that can ultimately change your life!
Current music obsessions: YG, Meek Mill, Drake, Beyonce (always)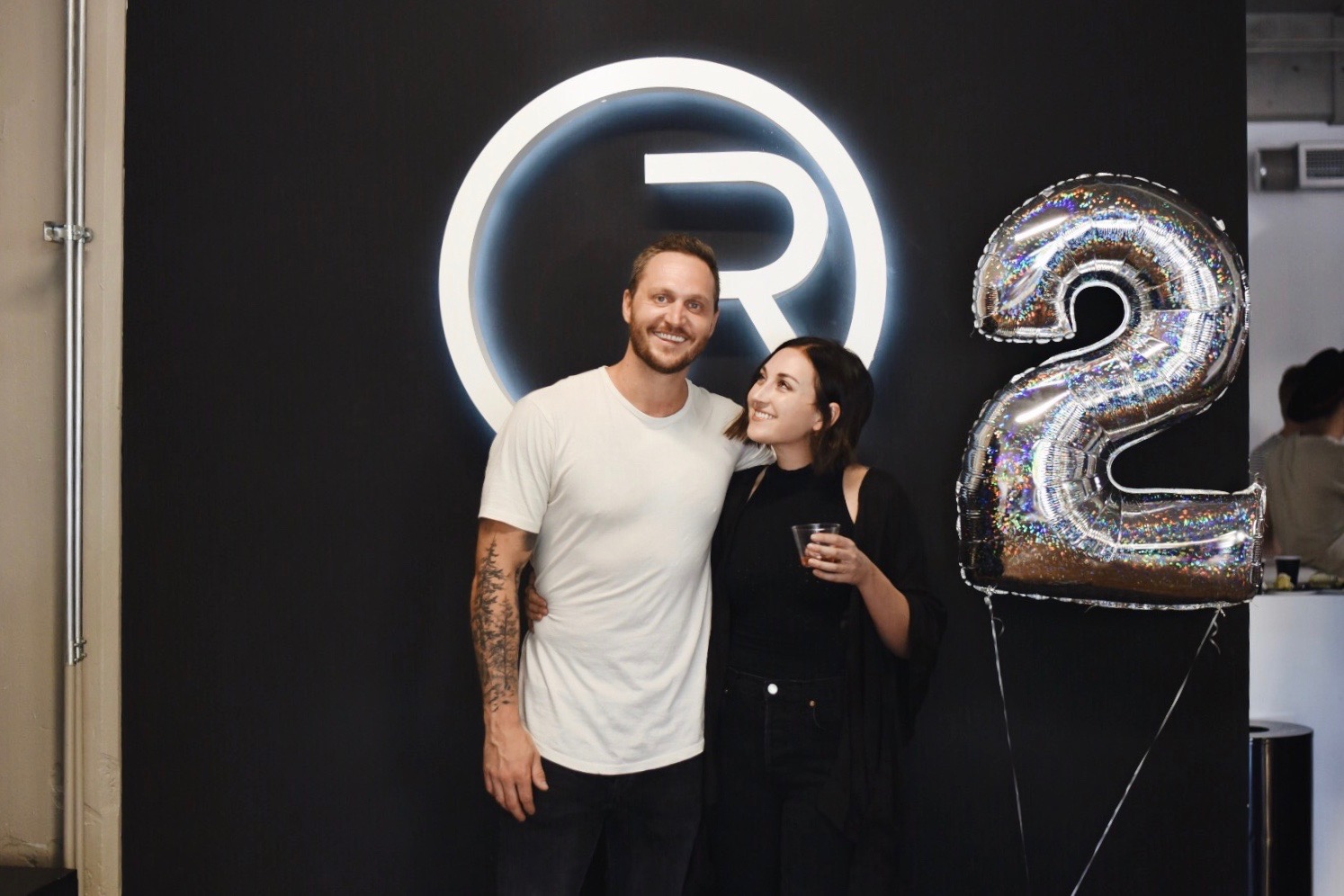 NINA AND DEVIN PEARSON.
CO - FOUNDERS / CEO'S.
We are currently looking for friendly, people who would like to be Rebel Trainers, Front of house staff, or help us keep the studio nice and tidy. We also offer "work trade" for part time cleaners / helpers (hello free classes!) Send us your info if interested. No flakes pretty please.